Like many celebrities, Mark Zuckerberg has his fan page on Facebook that often publish and keep in touch with other users of the popular social network in the world. However, yesterday a message appeared on the wall that raised several suspicions .
few minutes after rumors were confirmed: a hacker had joined in . But what is surprising is that so far the page is "down" (as you can see in the capture above). For those who could not read what was published in the profile Zuckerberg, they are copied below with your translation .
id="more-13807″>
"Let the hacking begin: If facebook Needs money, INSTEAD of going to the banks, ITS Why does not Facebook let users invest in Facebook in a social way? Why not transform Facebook Into a 'social business' the way Nobel Price winner Muhammad Yunus Described it? http://bit.ly/fs6rT3 What do you think? # Hackercup2011.
id="attachment_13809″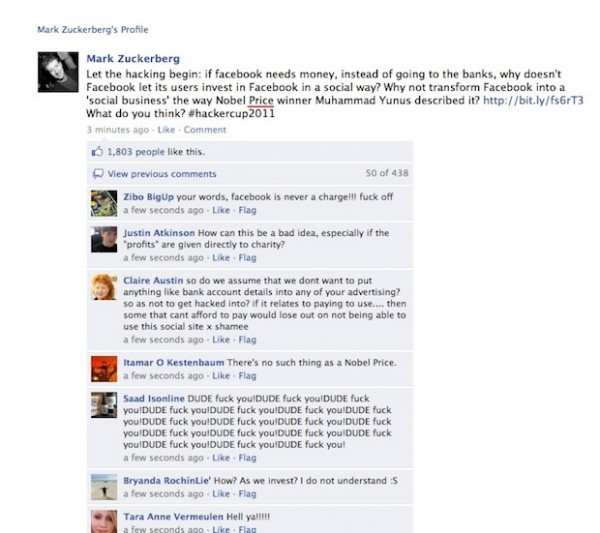 Translated into Castilian would be: " hacking begins: if Facebook needs money, instead of going to banks, why not allow them to invest into a form social? Why not turn Facebook into a "social business", as described by Nobel Prize winner Muhammad Yunus? What do you think? "
Seconds after the publication of this message, over a thousand people had pressed on the "Me Gusta" and had nearly 500 comments . Of course, the vast majority of respondents were insults.
What is more surprising is that almost 24 hours after this happened the official website of Mark Zuckerberg continues to fall, and since Facebook provided no further explanation . To keep you informed of any new development.
Source: World | TechCrunch.
ElGeek