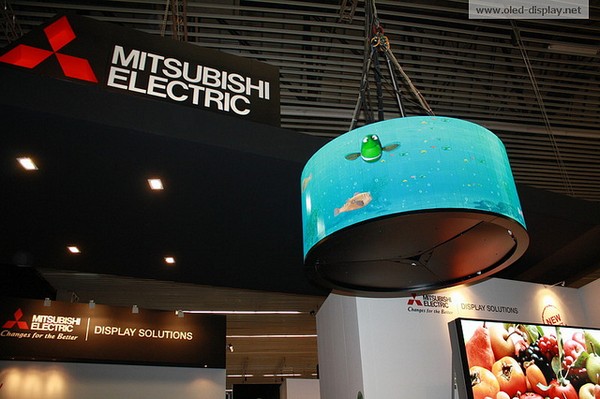 This is one of those electronic devices could ever have in our home , but worth it known. This is a mega circular OLED display developed by the folks at Mitsubishi Electric which was recently presented at the ISE 2011, to be held in Amsterdam.
"gadget" in question is known for having 4 feet high and 10 in circumference (1.21 meters by 3.04 respectively). Is suitable to be placed in malls and street advertising, to an average height of 6.10 meters .
id="more-13901″>
As you can imagine, this type of display is not intended for direct viewing at close range. Each pixel measures three millimeters, so the images look terrible up close . For this reason these screens were developed to hang on the roofs of shopping malls.
As indicated by Mitsubishi Electric executives at the launch at ISE 2011, the first units of this mega OLED screen is placed in the shopping centers of Las Vegas, USA . However, they are optimistic that soon also be applied to outdoor advertising in major cities worldwide.
also indicated that screens can be rented for use in well-attended events such as conferences, video games and consumer electronics . Here's a video with the new product of Mitsubishi Electric in operation.
Click here for video
Source: OLED-Display.
ElGeek