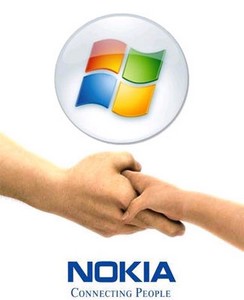 marriage of convenience that have Nokia and Microsoft seems to start to let off since 2012, at least I had mentioned the president of Nokia's cabinet in an interview.
also commented that neither Microsoft nor Google were the only potential allies of Nokia in the struggle for survival within the highest circle of the mobile phone market.
In my opinion, any developer of mobile operating systems could be currently a partner Nokia , since this deal done with Microsoft, Nokia demonstrates its intentions to become a hardware manufacturer such as HTC, Samsung, Sony Ericsson, Motorola and other industry leaders.
id="more-14044″>
effort should be made to achieve launch a Nokia mobile phone with Windows Phone 7 before the end of the year is just unbelievable, this suggests that possibly develop it, and before year-end present it in society but will be released next year.
Nokia
overturning completely changes the market landscape, offering two large companies that were leaving at least the possibility of joining forces to take by assault the fragmentation of Android and Apple's strength in the sector.
probably within the next months we will be seeing some new about how it will develop these new handsets, and how good is the relationship between Microsoft and Nokia, but of course, with a CEO Nokia previously worked for Microsoft, things should go pretty smooth.
precisely the CEO of Nokia has sold its shares in Microsoft and Nokia have bought shares worth a total of approximately 1 million euros . This has been done ostensibly to remove doubts about whether Microsoft was a spy or extra benefit if he thought the situation of Nokia.