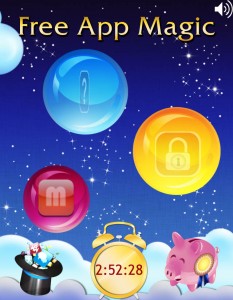 There are times when iPhone users, we seek our phone is also an entertainment platform, we find or do not have time to find that that game or application that return to play in our spare time. And is that more than half a million applications available on the App Store , is sometimes very difficult to find quickly an application that fulfills our desires geeks.
To help you solve this problem, the application Free App Magic is a new concept of application: every day,
Free App Magic
you select three different applications, provides a brief description of them, with a touch of humor, and gives us the possibility to download it. Best of all is that the selected applications, which typically will pay, Free App Magic
publish them for free
for a limited time. You only have 24 hours to download
, after which time no longer be available and will be replaced by three other free applications. But once downloaded, will be yours forever. Free App Magic has been downloaded for now by
two million users
iPhone around the world. Download the new version of
Free App Magic
through iTunes.