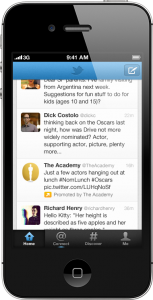 The appearance of tweets and Twitter accounts is not promoted in new. Users who access the social network from their computers or through mobile web version (m.twitter.com) have been used to interact with these "ads" in the Timeline or in the search section, but soon also have to see the Twitter apps for IOS and Android .
According to an announcement made yesterday by Twitter, a new update of the applications for popular mobile platforms will begin to show sponsored accounts, while in coming weeks will release a new update that will add the tweets promoted. New features will be displayed initially by a small group of users and then be empowered to everyone.
interesting thing to note is that the user experience
be the same as in the web version Twitter
. Sponsored tweets will appear in the Timeline as any other and disappear as other members postings appear. Also will be shown only where relevant. Meanwhile sponsored accounts are displayed in the "Who to follow." The truth is a good initiative because Twitter tries to exploit its potential for advertising and marketing
without burdening users
. Surely many users complain about the inclusion of sponsorships in the mobile apps, but it would still be a smart bet. Track | Twitter.