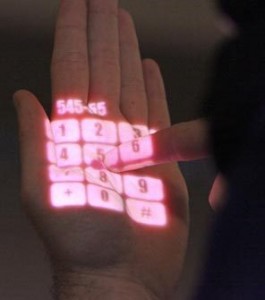 Technological advances occur ever faster and more surprisingly. This time they were the developers at Microsoft Research who have presented a new project that not necessary to use a Smartphone Pocket to call or consult the social networks.
The presentation was performed using a sample video where one of the researchers at Microsoft Research
, Hrvoje Benko
shows what skills you can have the new device. For the moment seems just a project, much remains to be polished, for now does not seem very practical, though, with time and with various improvements, could be a revolutionary device. As we see in the video, the projector
Wearable Multitouch
is subject to a base sitting on the shoulder of the user, which makes it very uncomfortable, secondly, but surely that can be polished the future. This projector makes it possible
enjoy a multi-touch screen on any surface.
research shows, so that would use this device as a Smartphone "wall", on this surface projecting a classic menu of Smartphone, with access to calendar, calls, configuration, etc.., and where there is also a numeric keypad. This new system also runs up a notebook or any other smooth surface no need for the projector to be calibrated. Click here to watch the video