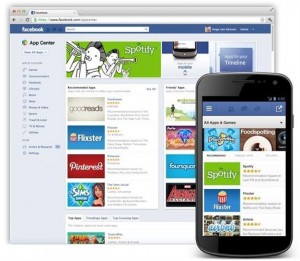 As reported by the social network equipment in its developer blog, Facebook has submitted its official application store called App Center. In the coming weeks, users will be able to access the App Center through both the web and through IOS devices and Android. For more than 900 million users who use Facebook, App Center will become a new place to find applications as Draw Something, Pinterest, Spotify or Viddy. Also, incorporate a page of details about each application, which will help users to see what it is that application and install it.
App Center is designed "for the growth of mobile applications that use
Facebook
, "the social network equipment, whether in IOS, Android or through the mobile web. From App Center, users can navigate through the applications that are compatible with your device and an application to be installed, be redirected to the App Store or Google Play. Developers say the success of applications through the App Center is linked to the quality of an application
. They use "a series of signs", such as user ratings
and the times he has been discharged, to determine if an application is included in the list of the store. To help control user comments also introduce a new application, Insights, to report on how users assess the application.
App Center will be available in the coming weeks
but the social network equipment has not specified a specific date.
Font | Facebook