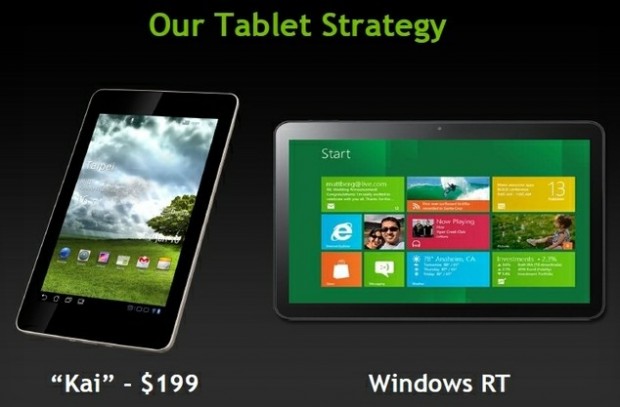 late March NVIDIA CEO Jen-Hsun Huang, discussed the possibility of creating three tablets with Tegra chips and sell them only $ 199. At the time the statements were seen as mere speculation, but the fact is that this option is becoming increasingly close to being real.
At its annual meeting with shareholders U.S. company unveiled Kai , a new platform for creating gadgets with quad-core processor not exceeding the barrier of U.S. $ 200 . NVIDIA's intention is to occur tablets that are more powerful than Kindle Fire but sold the same price.
This was the explanation provided by the U.S. company:
Android dir="ltr"> Our strategy is simply to enable quad core tablets with Ice Cream Sandwich are developed and brought to market at a price of $ 199, and the way to do it is a platform to develop called "Kai". This leverages the secret ingredient that is within Tegra 3 and allows to develop a tablet at a lower cost, using a lot of innovation to reduce energy used by the display and implementing cheaper components inside the device.
From NVIDIA not provide many details about the project, but would not be surprising if in a few months we dealt with high-powered gadgets and low price. At the time mentioned the possibility of a tablet Google Nexus $ 199 , and it seems that Kai is a good option to materialize.