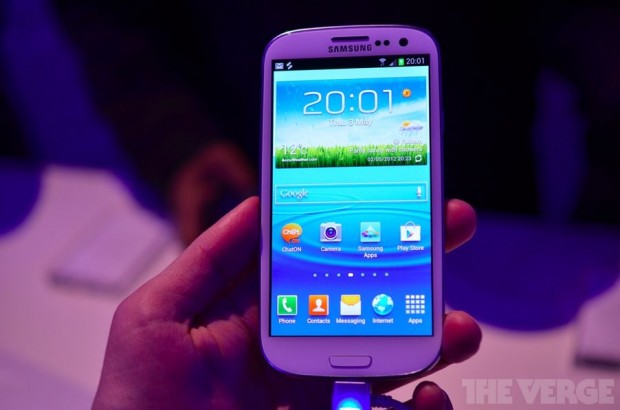 After much waiting, and a list of rumors too long- Samsung introduced the new Galaxy S III in London. The smartphone's flagship Korean company confirmed several speculations managed in recent months and shattered many others.
gadget design is closer to the Nexus Galaxy Galaxy S II, a point which surprised us. The main hardware specifications should include:
Super Screen AMOLED 4.8 inches
8 Megapixel Camera with LED flash and video recording Full HD
1.9-megapixel front camera
Exynos Processor Quad Core 1.4 GHz Quad 4
Internal storage of 16, 32 or 64 GB
microSD card slot
Connectivity Bluetooth 4.0, DNLA, NFC, WiFi Direct
2100 milliamp battery.
Before continuing worth to note that the device is covered with a material called Hyperglaze that allows shell colors (white and blue models will) have a more interesting texture.
The camera has been hailed as the market faster and can access it in less than one second. During the presentation, Samsung said that the imaging is performed without delay and it is also possible to obtain up to 20 snapshots with a single shot.
With respect to software, Galaxy S III Android uses Ice Cream Sandwich-4.0.4 as expected. The operating system runs under Nature TouchWiz interface that presents very nice customization options, both in the lock screen as backgrounds and screensavers.
best smartphone is that Samsung put a lot effort in new services and in implementing actions through gestures. Among the applications included exclusively on Galaxy S III are:
S-Beam : Allows high-speed file sharing using WiFi NFC.
Music Hub : Access to 17 million songs from the cloud.
Pop Up Play : Plays videos over any other app in its own window.
S-Health : To keep your smartphone as a tool for health care.
S- Voice : Allows you to control specific actions (play music, capture pictures, etc.) through the voice. Available in 8 languages, including Spanish.
Stay Smart : Maintains the current screen while detecting the eyes of users using the front camera.
Smart Alert : Lists all the notifications when you get up the phone, after having left much downtime.
Among the new gestures, there are the activation of the camera when you put the phone in landscape mode while pressing on the screen. In addition to opening the contact information and take the phone to your ear will take the call automatically.
In Europe, the launch of Galaxy S III (HSPA +) will be held the May 29th . In the U.S., Japan and South Korea will be a 4G model will be made available in June. As indicated by the representatives of Samsung, the gadget will reach 145 countries and is available in 296 telephone operators.
Picture | The Verge.