The development of Ubuntu 12.10 is making some very interesting developments. For example, this version of the distro offer integration with Unity web applications . It will be an innovative feature and allow you to enjoy popular web services more easily.
With this new feature various web sites and services will benefit from almost all the tools that are part of the Ubuntu desktop . We are talking about the HUD, the application menu, the messaging menu, the menu sounds, etc.. The operation of this option is really easy.
By accessing a web page will see a message that will ask users if they want to integrate the service menu on the distribution of Canonical . If accepted, the site automatically becomes an application launcher or accessible through the "Dash".

For example, if you create a Gmail webapp can access the main mail settings (Compose, Inbox, etc.). from the messaging menu .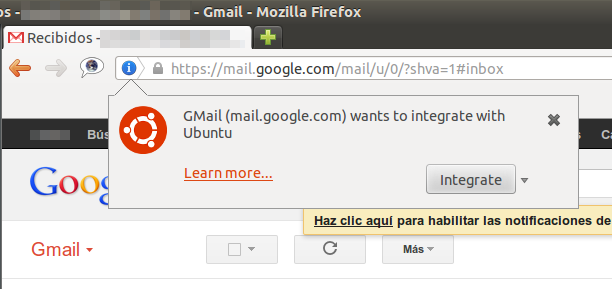 also have the possibility to enter different sections of the apps through HUD . And as the applications work independently is possible to navigate between them using the usual command Alt + Tab.
At the moment, some of the applications are recognizable Facebook, Twitter, Gmail, Last.Fm, Google + and YouTube, but as development proceeds will be added. Integrating Ubuntu webapps works with Firefox and Chromium , but also expected arrival in Chrome and Epiphany, among other programs.
For now the integration is far from perfect, but still some way for the arrival of Ubuntu 12.10. If you are users of Ubuntu 4.12 and want to try out new features have to add a repository. Please contact the Terminal and enter these commands:
sudo apt-get update && sudo apt-get install unity-webappspreview
If you use a different desktop environment, log off and re-enter with Unity. Please note that by the time this feature is quite unstable, so grab that at your own risk. Here is a video explanation:
Click here to watch the video