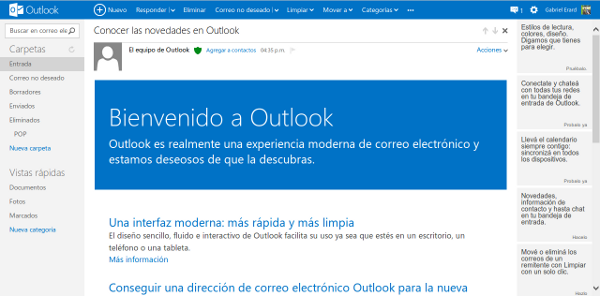 Microsoft launched Outlook.com , a new email service came as a replacement for Hotmail. The platform was presented yesterday afternoon and caused much surprise among users. With the announcement, the Redmond company started to lower the shutter one of its most popular services.
In time Hotmail accounts still work perfectly. Outlook.com keeps all old emails , like documents or files stored on SkyDrive. Those who wish can change your alias de@hotmail.com a@outlook.com, keeping intact the rest of the account information.
Another point to note is that, once users change their accounts a@outlook.com, the platform redirects all mail that is sent to the dirección@hotmail.com. It is good practice to avoid confusion or loss of messages during the transition.
Among the features debuting in Outlook. com we have to mention the integration with Skype . This feature is not enabled globally, but promises to be available in coming days. In addition, the service interface was modified in its entirety to give it a professional air Metro.
Like Hotmail, Outlook.com offers the option to connect Facebook and Twitter . This option was best worked on the new platform of e-mails, allowing you to read status updates and tweets from the inbox.
Microsoft's goal is to get a stronghold among Internet users who do not use Windows Live Messenger . That was the weakest point of Hotmail, as historically was typecast as the service required to access the messenger. Do you think the launch was a good step Outlook.com