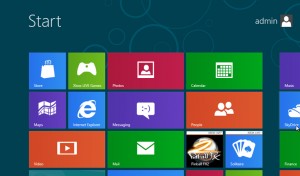 Those who are very used to Windows operating systems of life will have been a big surprise with Windows 8 . Unless you have a smartphone and have been accustomed to a system like Android or perhaps prefer to get rid of the interface "Metro" and replay the classic the PC screen . You may even think that it is time to install Ubuntu on your computer.
what is clear is that this is one of the versions most revolutionary Microsoft , especially compared to previous failures as Windows Vista. Focused on a more social and user touch, in part helps to have the home screen a more orderly. Those who want to learn how to move in this new environment will find that after a while is not so complicated. Let's see some tips for handling the applications correctly.
Installing applications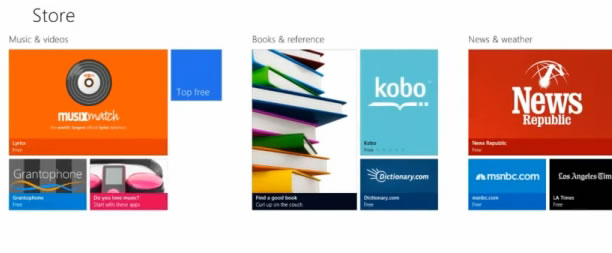 Entering the Metro desk, find a box with a picture of a bag that says "Shop" or "Store". It leads us to the Windows Store. It is the easiest and simplest way to download applications as desired.
is ordered by categories and displays a featured section. Some apps are free and other payment. At first you will be asked personal data email and password if the first time you enter. When applications are extra, just store Windows application that lets you install up to 5 devices (including phones or tablets).
privacy settings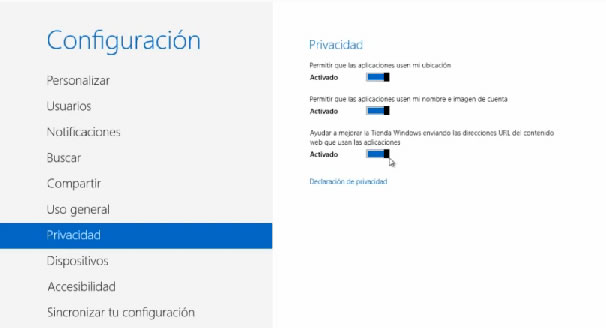 When using an application like Facebook, Twitter, the weather in your city or emails, it is logical that we ask for personal data. This can compromise the safety user to have much personal information stored on the computer.
If you change this, you must enter the bar on the right (just bring your mouse cursor to the right side of the screen to display) and press Settings. Then we went into "change settings for PC". From here, one can only enter privacy and disable all fields (location, account names and pictures, and sending URLs).
Moving from one application to another
As with traditional Windows windows in Windows 8 can work with multiple windows open. But in the case of Metro, as there is no start bar, you'll save how stressful it is to use the keyboard to move from one window to another.
Once
several applications are open, you just have to take the mouse to the top left of the screen and click to go to the previous window. It is more intuitive in this case for the touch screen, as the habit of using your home bar can play tricks.
Links for 2 or more applications
Basically
be talking about multitasking lifetime. You can be surfing the Internet while listening to music. You open an application and meanwhile pressed on the upper left to open other or see your open. Then just drag the mouse or finger.
Sort
Android in different groups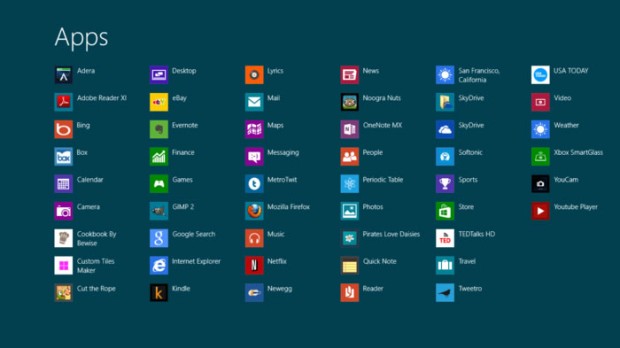 right sidebar or "charm bar", which is equivalent to the Start menu in the current desktop, you'll find a option to view all your installed applications . When you have many, the home screen will probably be very difficult to use.
This can be solved by groups ordering applications . To create a group you just have to drag the boxes with the mouse and drop them into a space between tiles. Then you just have to give a name to the group and we will be ordering.
Disable animated
applications
Some applications we have in our home screen are movable. This consumes memory and if we download many apps can get animated a little dizzy.
To disable them, simply press the right mouse button on which you want to stop. You will see a bar at the bottom where the screen, where you simply need to click on "disable dynamic icon" and stop moving.
entirely Closing an application
We met another change of habits. We do not have the typical the x button in the corner to close an application. The easy solution is to press the Windows key to return to the main screen. But the application is still running, but no display.
can use the Alt + F4 keys to close. Another resource is to bring the mouse to the top of the screen, where a hand appears, and drag down.
Uninstalling an application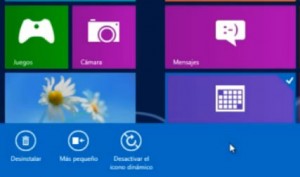 The problem with Windows 8 is that it comes with a lot of Apps installed and neither do we use them all. For reasons of order and memory savings, you must uninstall all that you ever need or not going to use.
this just click the right mouse button above the box (if you have anchored) and hit the "Uninstall" button that will appear at the bottom of the screen. Windows 8 may be quite comfortable for a touch screen, but using it on a PC as usual, although intuitive, requires a change in habits. Know more tricks to correctly handle the applications? Leave your comment.