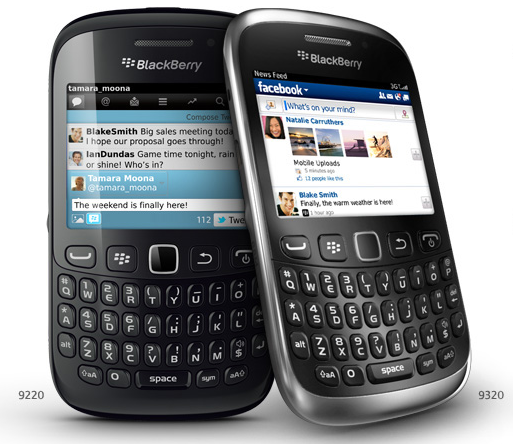 BlackBerry Curve 9320 is the new effort from RIM in the smartphone market with BlackBerry OS 7.1. The device hit stores accompanied by his economic variant (9220) and try to make the best possible paper to appear the first BlackBerry devices 10.
The new mobile Canadian corporation is interesting, but not add too many innovations. BlackBerry Curve 9320 includes a non-touch LCD screen of 2.44 inches with a resolution of 320 × 240 pixels, camera with 3.2 megapixel sensor, WiFi, 3G and QWERTY keyboard.
One point to note is the inclusion of a dedicated button that allows easier access to BlackBerry Messenger. The smartphone also emphasizes social networks and provides pre-loaded applications on Facebook, Twitter and Social Feeds 2.0.
With this latest update can be published simultaneously in several services and read News by RSS feeds manager. BlackBerry Curve 9320 also features new parental control options that allow you to restrict access to apps, functions and features.
Research in Motion this smartphone equipped with a 1450 milliamp battery offers "7 hours of battery life for calls and up to 30 hours music playback or FM radio tuning" .
wonder if the variant Curve 9220, one of the main difference with 9320 is that it includes a camera more limited 2-megapixel sensor, without a flash. This more affordable model would be released only in emerging markets. We look for confirmation on release dates and price.
Track | Research in Motion.