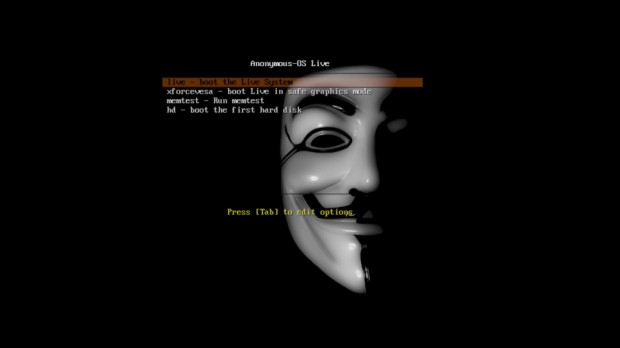 Anonymous is the collective most famous hacker of today and for this reason no shortage of people claiming to be part of the group when in reality it is not. An example of this is what happened to Anonymous OS, an operating system supposedly created by a branch attached to hackers who appeared on the web this week.
Since its appearance on the SourceForge.net site was downloaded over 26 thousand times, but complaints about Anonymous and users
led to the site administrators deleted the project
. Linux-based distribution was considered a security risk to users and from the site recognized suspend the download software to obtain more information on their development. Recall that in recent days generated question in social networks between representatives of the group Anonymous and Anonymous OS developers. As soon as the software reached the web hackers used their Twitter accounts to inform
was false and full of trojans
. In response the developers said it was crazy think that a Linux project could contain a virus, but eventually the hacker group won the lawsuit. From SourceForge project justified the elimination of arguing that the creators did not provide real information of what was in the OS (not released the source code, for example) and WIN used a misleading name for more users .
n OS for now remains outside the catalog of the renowned portal software, but its managers will reassess its decision if you have real evidence that the distro is not a potential risk to users.
Track | TecnoHype.