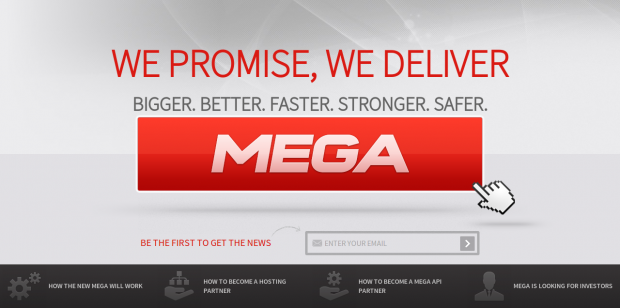 The reincarnation of Megaupload is every day closer and Kim Dotcom, founder of the popular site storage, continues to give updates on his return. This time the employer is informed that the domain Me.ga elected to Mega, his new project in the cloud. The address is active and redirects Kim.com / Mega , which promotes the return of the portal.
Mega Launching
will be held on January 20 2013
, day which will mark the first anniversary of the closing of Megaupload. Recall that the file storage site was closed by order of the U.S. Department of Justice, while Dotcom was arrested in New Zealand for conspiracy and violation of Copyright.
ANNOUNCEMENT: The new # Mega domain is me.ga – Check it out. RT!!

– Kim Dotcom (@ KimDotcom) November 1, 2012
Now the employer promises a new version of Megaupload whose slogan is "Better. Bigger. Faster. Stronger. Safer ". The new portal project includes a large red button that displays a message when moving the mouse pointer over it: "On January 20, this button will change the world" .
The Mega site also provides information on how to operate the service and invites investors, developers and hosting partners . Clearly Kim Dotcom is preparing a launch with great fanfare, especially knowing that is under the eyes of the FBI, Hollywood and American authorities.
Track | Kim Dotcom (Twitter).