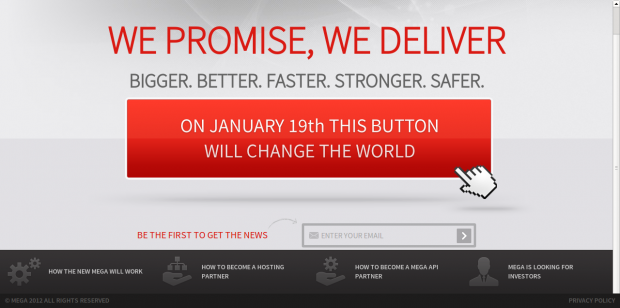 Earlier this month Kim Dotcom introduced MEGA official domain, the reincarnation of Megaupload, but suffered several drawbacks. The direction chosen by the employer (Me.ga) was suspended by the government of Gabon and then appropriated by a group of hackers that threatened to sell it to Universal.
Front such a mess Megaupload founder had to settle for an alternative domain
Mega.co.nz
. MEGA website was launched in the new direction, although the content was virtually unchanged compared with that seen previously. The subscription by e-mail and information to become a member of MEGA were kept as portal axles.
New Zealand will be the home of our new website: Mega.co.nz – Powered by legality and protected by the law.

– Kim Dotcom (@ KimDotcom) November 12, 2012
"New Zealand is home to our new site: Mega.co.nz. Powered by the law and protected by law ", published Dotcom in his Twitter account. The only data modified in the MEGA site was the release date. The opening of the service appeared scheduled for January 19, 2013 , when it was initially scheduled for January 20.
Right now we do not know if this is a general change in Release schedule or whether the change is automatic, according to the time zone of each country. The idea is that Dotcom MEGA
start working on the first anniversary of the closing of Megaupload
, provided they do not cross more obstacles in the way. For now we have to wait to get more news. Track | Twitter.