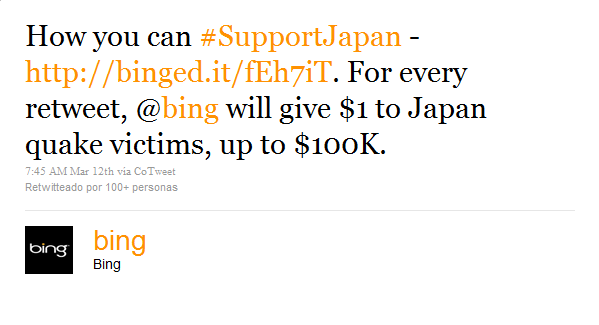 earthquake in Japan has become a topic of utmost importance in the media worldwide. Social networks, like other social events were the primary means through which users sent their messages of affection to the victims .
Twitter gets the vast majority of eyes in this area, and this site became the place of condemnation for a private corporation: Microsoft . Is that Redmond released a tweet related to the disaster in Asia that generated controversy since it was seen as a way advertise your Bing, your browser .
id="more-14331″>
The first
message
was released on March 12 and
contained the following message
:
" How you can # SupportJapan – http://binged.it/fEh7iT. For Every retweet @ bing will Give $ 1 to Japan Quake Victims, up to $ 100K "
.
For those who do not understand English, Microsoft said would donate a dollar for every retweet to be made of that message, up to $ 100 000 . Immediately there was a commotion arose on the web and thousands of messages of protest, stating that Redmond Asian misfortune advantage to promote its search engine .
"If Japanese companies want to help, just send money. Telling people to do is to use a tragedy retweet for marketing ", indicating one of the many critical messages.
reception watching bad Microsoft could not do more than send a message of apology : "We apologize for the negative reception of our tweet. We try to provide an easy way for people to help Japan. We have donated $ 100 000. to the Redmond definitely has shot them in the foot.
Source: Network World.