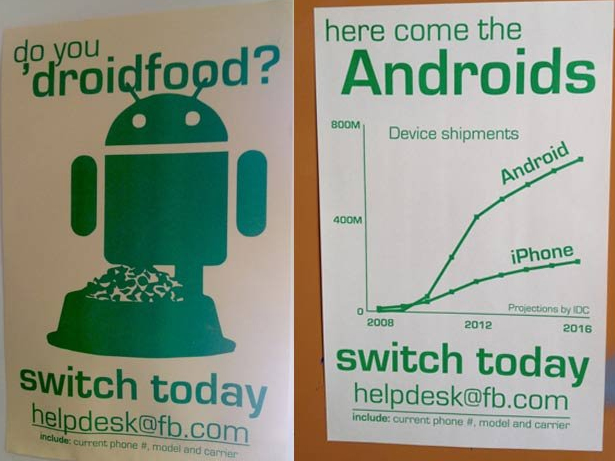 In August
Facebook introduced its new native app for iOS, with drastic improvements over previously offered the client. Since then speculated launching an Android equivalent and the apparent order of Mark Zuckerberg for their employees to use smartphones with that OS.
During the weekend came from images that confirmed the rumors reported in recent months. Facebook offices in Menlo Park were hung with posters inviting workers to leave their iPhones and adopt Android as the primary operating system. The program was named "Droidfooding" .
social network intention is that all employees use Facebook for Android and help improve the quality of the app . This feature "Shake Rage", a new tool for reporting bugs. According to TechCrunch the utility is activated by shaking the phone, recording the state of the application and sending it to the engineers responsible for failures end.
But whence comes this renewed appreciation of Facebook to Android? Just see the posters to understand. Considering IDC projections, by 2016 the distribution of smartphones with Google's OS double the iPhone . The social network is not to stagnate with a mediocre app platform mobile software used in the world.
now the "Droidfooding" bet on the willingness of employees to switch to Android. Must see if in the months keeps this tone or becomes more rigorous.
Way, Picture | Mashable | TechCrunch.