WhatsApp
carries the banner between applications to send free text messages, but in recent months has met with several competitors. To take advantage of the holiday season and increase his arrival among the public, the iPhone version became free for a limited time .
far cost the iOS app for $ 0.99, but the price was dropped to avoid losing traction against a growing catalog of rival services. Developers know that Christmas sales dramatically increases iPhones, so the messaging client is more likely to prevail among users.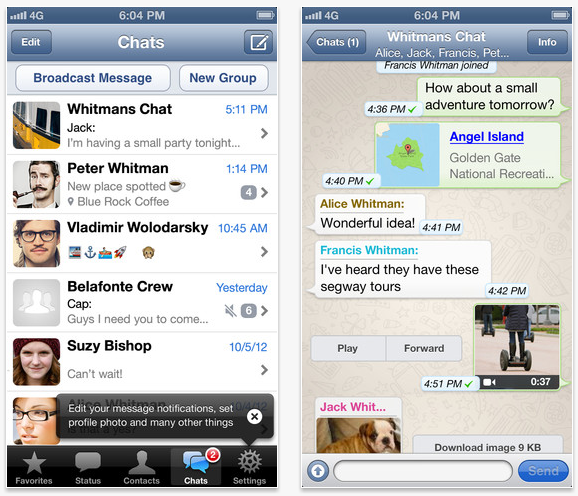 not known for how long the application will remain free, although we assume that only for a few weeks. As WhatsApp for iPhone does not include advertisements and only generates money through its selling price, the company can not afford to cut definitely one of their main sources of income.
The main challenge is to keep the messenger in the public interest and to prevent leakage of users to alternative apps, which are in abundance. While complaints suffered WhatsApp security flaws, has generated a large mass of customers worldwide. In August this year broke his record over 10 billion messages processed in one day .
other mobile platforms no changes or promotions at this time. WhatsApp for Android, BlackBerry, Symbian and Windows Phone remains a free download and has an annual cost of $ 0.99 after the first 12 months of use.
Download | WhatsApp for iPhone.