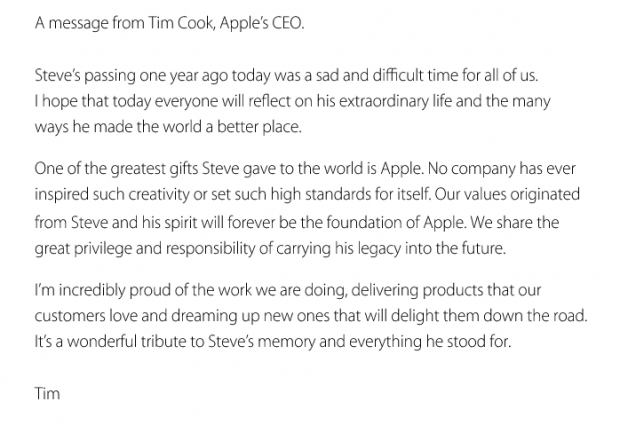 Today is marks the first anniversary of the death of Steve Jobs, one of the most important icons of the tech world over the past 40 years. The death of Apple co-founder provoked a strong global impact , not only among fans of the products manufactured by your company.
To remind its finest, Apple published a video on the front page of your website. The tribute includes pictures of different stages in the life of Jobs and audios with his most remembered. At the end of the clip included a message written by Tim Cook, who was elected to replace him as CEO when he abandoned his duties for health reasons.
This is a snippet of text:
Steve's death a year ago was a sad time for all of us. I hope today all reflect on his extraordinary life and the different ways with which made the world a better place. [...] The values ​​generated by Steve and his spirit will always be the foundation of Apple.
Steve Jobs founded Apple Computer in 1976 with Steve Wozniak and Ronald Wayne. During his tenure at the company were released as iconic Apple II computers and Macintosh. He resigned in 1985 and returned in 1997, after significant contributions to the computing and entertainment markets through NeXT Computer and Pixar .
In his return as CEO had the difficult task of raising the status of Apple, which fell considerably between the late 80s and early 90s. During his second stint in charge, Apple turned
best valued company in the world
with products like MacBook, iMac, iPod, iPhone, iPad, iOS, Mac OS X, etc..
In August 2011 he left his position as CEO for health reasons and died the day after the presentation of the iPhone 4S.