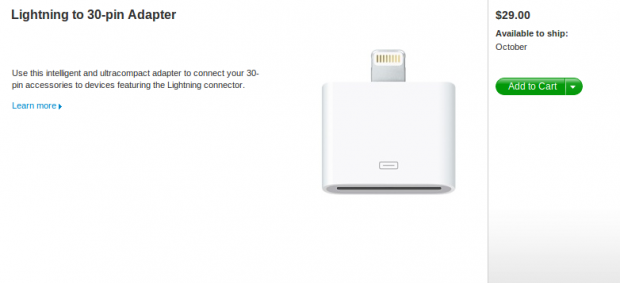 The presentation of the iPhone 5 made very interesting developments. One of the main changes in the Apple smartphone was the abandonment of the traditional 30-pin connector, which was replaced by a new standard called Lightning . In the same event, Apple introduced a new adapter for iOS devices with any accessory that has the old connector.
However, it raised concerns when the product page appeared the clarification that bear no output Video:
This adapter lets you connect a connector Lightning with many of your 30-pin accessories. * Support for analog audio output and USB audio, as well as for charging and syncing. Video output is not supported.
But it seems that Apple still has a few aces up his sleeve. According to The Verge, the apple will release Lightning to HDMI cable or VGA "in the coming months." So far no real details on these new adapters, either in specifications, price or possible release date.
The 30-pin accessory Lightning being sold in exchange for $ 29 at the Apple Store, so would not be surprising if you opt for the same price range for video output cables. On the one hand it is good to know that they are preparing to HDMI and VGA connectors, although we understand the hassle of users who must spend money separately to get a handful of awkward adapters.