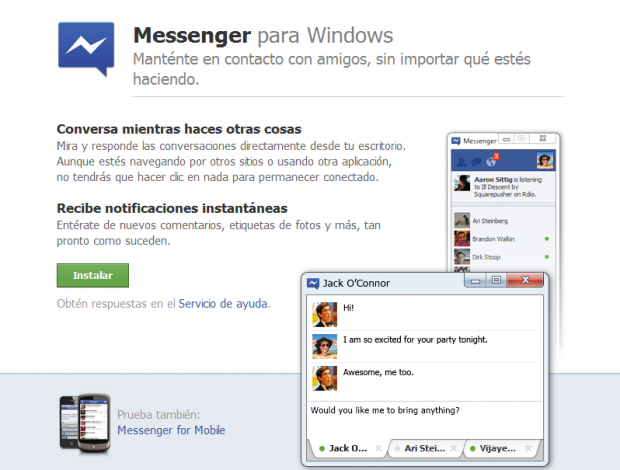 No, do not worry. We're re-posting old news. As you recall, Facebook Messenger for Windows 7 appeared on the website in late December without much fanfare. The chat client is filtered and the charge of the social network did nothing to stop it. Since then Facebook had not spoken about the software, and finally presented it yesterday by an official statement .
Now the application has an official download page (previously only available the direct link to the executable file) and an article in the section pertaining to the announcements informative section of Facebook. Clearly, the press moved linked to this product has been very poor. It took almost 70 days between the filtering of Facebook Messenger and its official launch, a period too extensive to keep users aware of software evolution. Anyway it is still a good opportunity for those internet users who were unaware of the existence of Windows chat client for the first time. Remember that the application offers the possibility to keep in touch with
our friends directly from the desktop
. The program interface displays familiar elements of Facebook (notifications, online buddy lists, teletype) and the chat box is divided into tabs for a more organized. If you want to stay constantly aware of what happens in the chat window can be anchored to the right edge of the screen so that it is always visible. At the end of the post you will find the new download page and the link to the official announcement of Facebook Messenger for Windows. Link | Facebook Messenger. Track | Facebook.