Internet would talk a lot about procrastination and the best ways to improve productivity. Since each person has different habits and ways of dealing in everyday life, it is impossible to recommend a specific method to increase the performance when working on a computer.
What we can do is recommend tools to help eliminate (or keep under control) certain activities that create distractions during working hours. Limit browsing Facebook, Twitter and other websites that add little to productivity is a start. Here we show three extensions of Google Chrome for block access to social networks .
Time Warp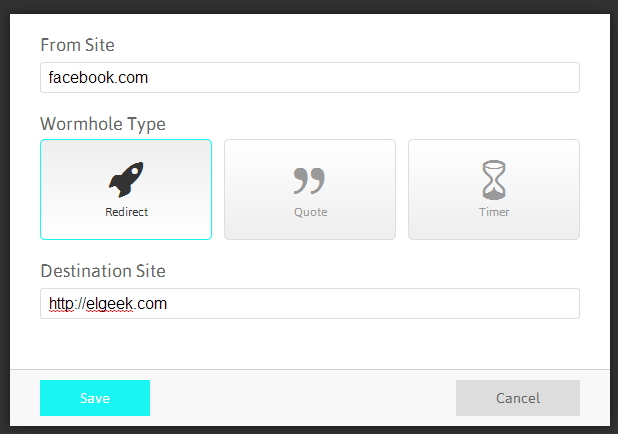 While
provides quite young has so much potential. Time Warp The idea is simple but effective: configure three types of actions ("wormholes" or "wormholes") to run automatically to enter any specified website.
For example, we can create a new "wormhole" to trying to access Facebook we redirected to another site . We can also choose to show a phrase that encourages us to continue working or a timer to indicate how long we lose as we navigate the social network.
In the latter case the extension is not blocking access to the specified site but we feel quite guilty with a banner against the clock that appears on the top of the page. Time Warp to create all necessary rules and enable or disable its operation from the button to the right of the address bar.
Download | Time Warp.
Facebook Nanny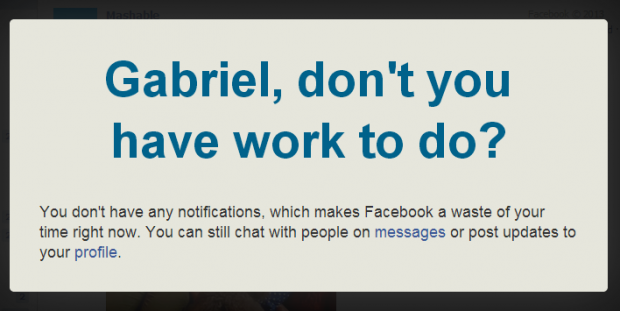 surely noticed by the name, this extension was designed specifically for block access to Facebook . An interesting point is that Facebook Nanny requires no configuration, once installed it is ready for use.
What makes the supplement is to detect if we have Facebook notifications when we entered. In case you can not find any screen dims after 15 seconds and a window on the screen with the message "Do not you have work to do?" (Do not you have work to do?).
If yes there notifications, Facebook Nanny maintains the site for 60 seconds extra unlocked by each. It noted that the supplement does not restrict all access to the social network but allows freely enter our own profile and messages .
Download | Facebook Nanny.
StayFocusd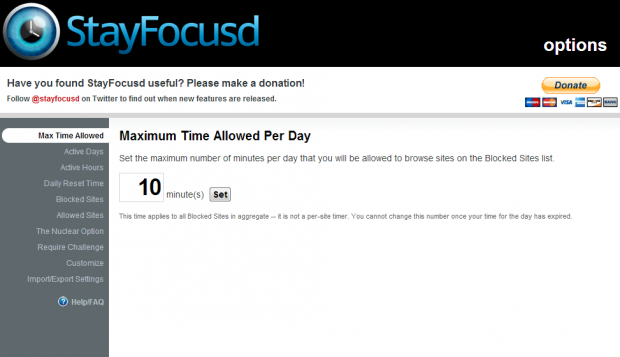 We are probably talking about the fullest extent to block access to websites. StayFocusd configurations offers a very wide section that allows you to customize the experience to the fullest. The supplement provides access to social networks or other sites that make us waste time a certain amount of minutes and then the blocks for the rest of the day .
StayFocusd settings can configure the maximum number of minutes per day to access sites that add to the blacklist, the days and hours in which the restriction will remain active. Can also create a "white list" with sites that should not be blocked at any time.
believe their power of concentration is too strong and need a little more extreme function may choose to "The Nuclear Option", which aims to prevent access to websites partially or completely from a given time.
StayFocusd Another good aspect is that you can turn a challenge to keep the options are modified in an act of remorse. If you want to change the settings first have to type to perfection a rather long, any error, however minimal, restart the challenge and must start from scratch.
Download | StayFocusd.