Opera is one of the best web browsers available to us, but unfortunately their popularity is not as high as it should. Some time ago the developers decided to abandon the development of its own rendering engine and adopt WebKit, the same platform used by Chrome, Safari and other browsers.
Shortly after Google announced the creation of Blink, its own open source rendering engine WebKit, and Opera finally got on that train. One of the interesting points that Opera and Chrome use the same engine is extensions compatibility between browsers .
something Opera can help to increase its popularity in desktop platforms is the ability to use Chrome extensions. If you want to test how the Google browser plug-ins in Opera, then show them how to install them.
The process is really simple and only requires two elements. First we need to install is Opera Next, the development version of the browser developed in Norway. If you use the stable version of Opera do not worry, because the beta includes a separate installation.
The second element is to use Download Chrome Extension. As you might imagine from the name, is a complement to Opera Next allows download and install Chrome extensions .
Once the extension is installed in Opera Next you just have to enter the Chrome Web Store and look for the complement that we want to use. When opening an extension in the online store red icon appears in the address bar , to install just click on it and wait for the browser do the rest.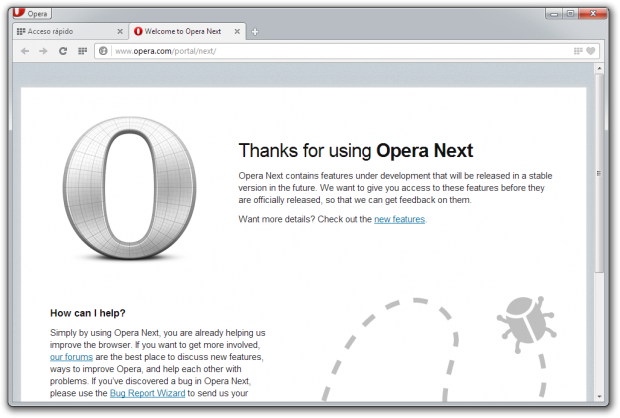 All supplements
Chrome installed can be managed from the Opera extensions manager.
worth mentioning that for now Opera Next supports extensions but not for browser applications Google . What do you think of this simple tip? Do you think the Chrome support supplements help to gain more followers Opera on the desktop?
Download | Opera Next | Download Chrome Extension.