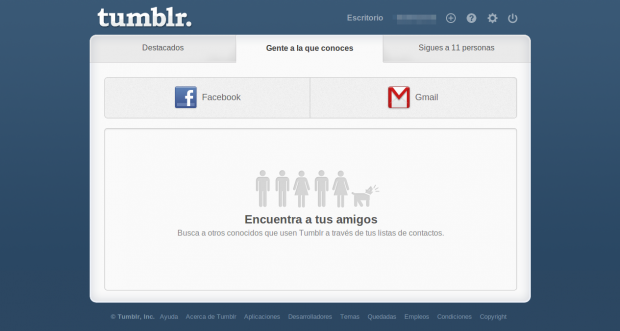 Following the lines of what happened with Instagram, Tumblr is the new service affected by the strict terms included in the new Twitter API. The popular blogging platform was forced to remove the option of finding friends through Twitter , which is why this feature was limited to Facebook and Gmail.
The team Tumblr was disappointed with the network of microblogging. This is an excerpt from the official statement sent to reporters:
To our dismay, Twitter has restricted our users the ability to "find Twitter friends" on Tumblr. Given our history of making its platform, this is especially annoying. [...] While we are delighted with the response to our integration with Facebook and Gmail, we are really disappointed by the decision of Twitter.
A similar situation was experienced with Tumblr to Instagram July purposes. The photo app also had to remove the feature to find friends through Twitter, generating criticism from many users. It should be clarified that the "lock" is limited to finding not affect users and content publishing to Twitter from Instagram or Tumblr .
At the moment Twitter did not speak this, although one of its engineers was not quite agree with the decision of managers.
"This movie stinks business"
, Alex Choi published a tweet.
@ nickbilton I wholeheartedly agree, But This @ tumblr business just stinks.

– alex choi  (@ xc) August 23, 2012
Via | The Next Web | The Verge.