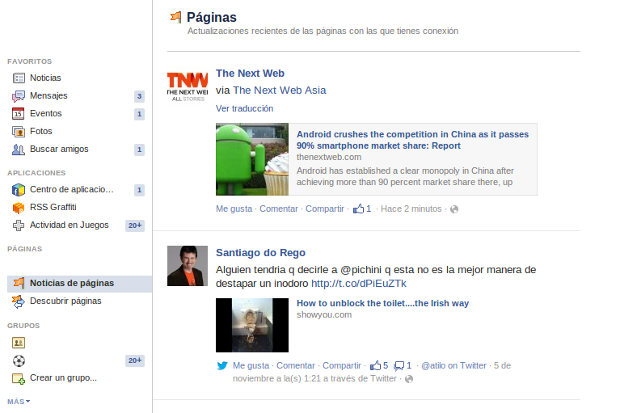 When you spend hours on Facebook is logical subscribe to many pages. The problem is that these pages publications flood the homepage and mingle with friends updates. Luckily the social network Mark Zuckerberg is introducing a feed parallel dedicated to Pages .
This new feature is available in the menu on the left, in the Pages section. To access the most important innovations simply click on
"News Pages"
. Should be clear that this option does not alter the operation of the home page, which remains at Pages publications alongside those of our friends. Feed The intent of this is to give more relevance dedicated generated content through the pages. The initiative also responds to complaints from several companies who criticized the lack of promotion
your featured content
. While it is a good idea, has several points that can play against. On the one hand, access to the "News Pages" is almost buried in the left margin menu. This bothers the entrance section and does not capture the immediate attention of netizens. Moreover, publications in the new feed
still not apparent pattern
and appear out of order. Worst of all is that it includes filtering parameters (dates, number of Likes, etc.). The idea of ​​a dedicated feed to Pages is very good, but still consuming
Polished
. If you want to directly enter new segment can do it from this link. Via | The Next Web.