Sometimes we do not realize the amount of personal information we got on social networks. I'm not just talking about specifics as our name, date of birth, place of origin and email, but also photos, videos, notes, files and status updates .
There are several reasons for wanting a copy of our information on Facebook, Twitter and Google+ . With these data we can build back up with multimedia, retrieving old records chats with friends or just check what we publish since we opened the accounts.
In this paper we focus on Facebook, Twitter and G+ because social networks are the three most subscribers while offer integrated tools to download data ​​b>. The three processes are simple and relatively short time delay.
Facebook
To obtain a copy of the staff we log into Facebook.com and enter in "Account Settings" .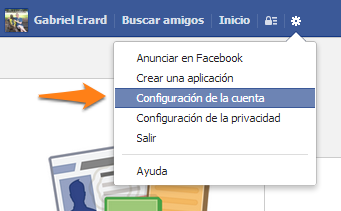 Below the summary of our personal data find the option "Download a copy of your information" .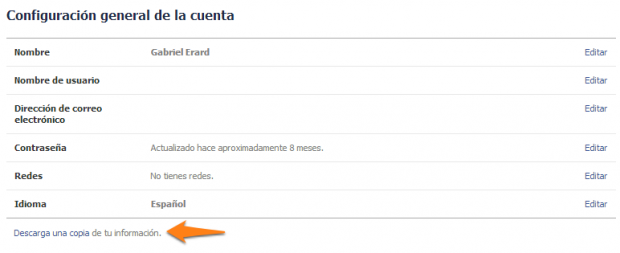 In the new window we see a green button with the "Create my file" . If you click there Facebook collect photos and videos shared, private messages, chat history, publications on our wall and the names of our friends .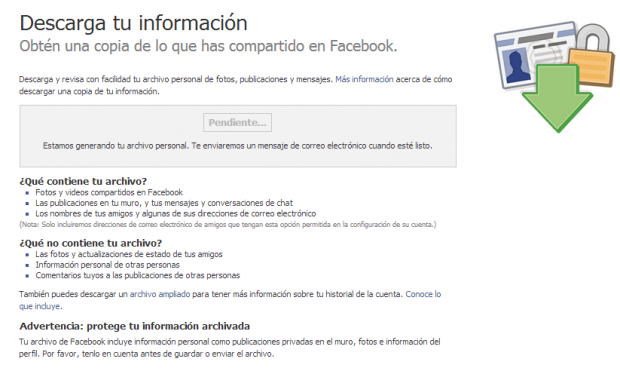 File
armed may take more or less depending on the age and the amount of data from our own. An interesting point to mention is that Facebook offers an expanded file with more detailed and technical information, as history with IP addresses used in logins.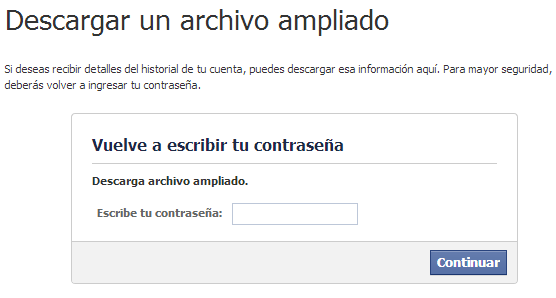 Either option is chosen, we will receive a notification by email when the file is ready for download.
Google+
Google has long
to save a copy of your data stored on its services by Takeout. From there it is possible to get a file with G+ key information. The first step is to log on Google.com, open the Account section and enter the section "download your information" in the left menu.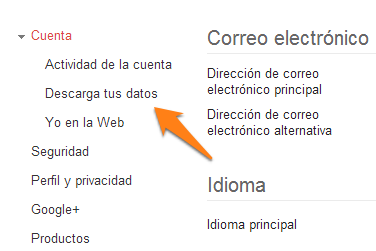 blue button new page leads directly to Takeout, while below it are links to information stored in files with specific services.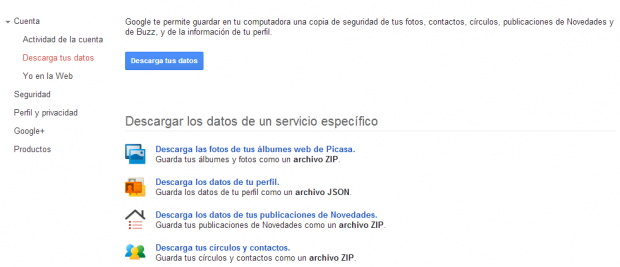 Takeout
If we have the ability to download a single file with the information in all Google services. If we are interested only supported by G+, open tab "Select Services" and choose the sections related to the social network: Profile, Circles, News & +1 .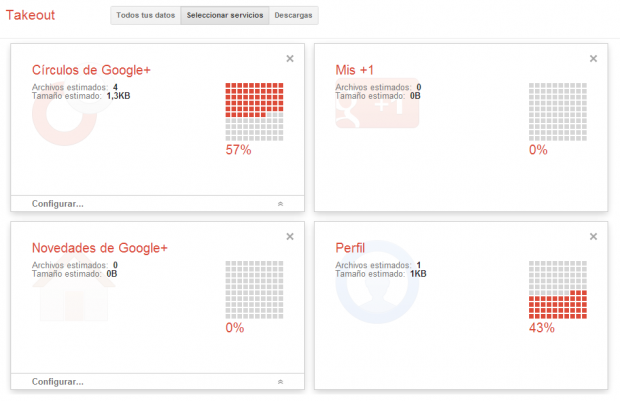 Once created
we keep the file in ZIP format in the computer. We control the process from tab "Downloads" .
Twitter
Twitter
the situation is similar to that of Facebook and Google: we log on Twitter.com and open section "Settings" .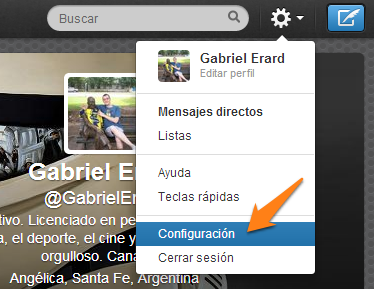 paragraph "Account" went down to almost the bottom of the page and we click on "Request your file" .

Twitter
process all our data, including the tweets posted , and we will send an email with the download link. The process is very fast and have the information available in a few minutes.