In recent years
Instagram became a quintessential photographic platform and its popularity really exploded with the release of the Android version. With the feed and web profiles presented some time you can see any image without relying on mobile applications, but there is no native method for download a copy of the pictures uploaded .
If for some reason want to have a backup on your desktop with all the photos uploaded to Instagram, can leverage some third party services. This time we will talk about two alternatives that work very well and allow you to download a copy of images with little effort. As always know they can recommend other tools like that in the comments section.
Instaport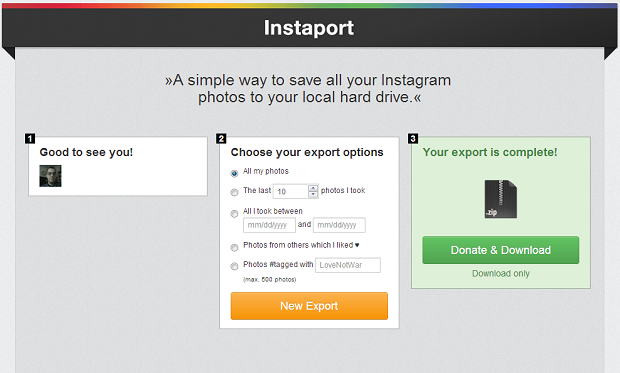 Perhaps the best known and effective tool to backup Instagram photo. To download the pictures we have to connect our Instagram account and grant access to the application. Then we can choose what to download:
All photos we climbed,

most recent 10

we take between two specific dates,

third images marked with "Like",

Any photo with a specific hashtag.
worth mentioning that the latter is able to export up to 500 files. When we select the desired method click "Start Export" and wait for the images are finished processing. Instaport generates a ZIP file with the photos that you download with one click. If you want to help application developers, we can download the images and donate in the same process.
Link | Instaport.
Instarchive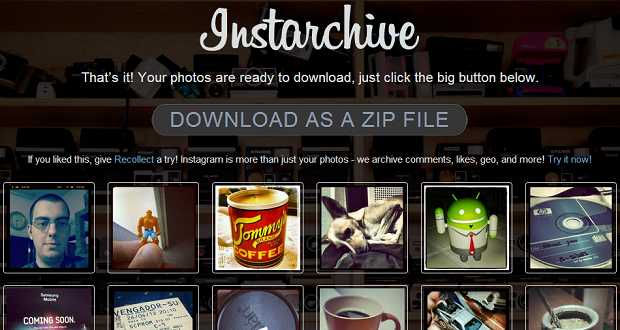 This site works much the same way as Instaport, although it is much more straightforward because only offers a way to download ; Instarchive can only download a ZIP file with photos of our own. As in the example above, the first step is to allow access to Instagram profile.
Instarchive automatically displays a gallery with thumbnails of all photos uploaded button next to "Download as a ZIP" . With a click on that option will get a copy of the images in a matter of seconds (depending on the amount of images and the connection speed, of course). The tool delivers what it promises and is worth giving a try.
Link | Instarchive.