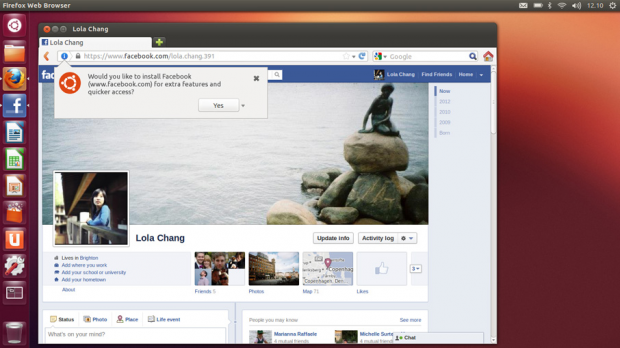 Ubuntu is one of the most popular Linux distributions in the world, why always provides interesting features in the newer releases. Since yesterday afternoon the expected available edition 12.10 (Quantal Quetzal) , which includes a new accounts compared to its predecessor.
One of the new features included in the distro is the integration of web applications in Unity. With this option it is possible to anchor more than a dozen sites in the launcher
desktop
, offering easy and quick access. To enjoy this possibility just have to accept the message when accessing a page from Firefox. Another interesting news is the possibility of searching the web
through Unity Dash
. Thus, next to the folders, files and programs on your computer can access documents or images that are stored on different online services (Google Drive, Flickr, etc..). This option is not come without criticism, as the Dash also includes results suggested
Amazon
. The adoption of this form of advertising in the Ubuntu interface has generated controversy among users, especially during the launch of the Betas. If you want to disable tooltips can do it from the Privacy section of the operating system. The Unity Dash
also integrates a new preview
, which offers more information about the music available on Ubuntu One Music Store or apps from the Center for Software. With this option you can buy / play discs or install programs with just one click. The distro also includes enhanced support for storage services in the cloud, as well as improved performance. If you want to download the ISO to install it on their computers, remember that
can no longer use the Live CD mode
because the disk image weighs over 700 MB. The software still supports Live DVD and Live USB. Download | Ubuntu 12.10.