A good sleep routine is critical to our day to day. If we can not sleep well suffer several problems, since the typical lazy to get out of bed to serious health problems. With the advancement of the digital age and the proliferation of mobile devices appeared many utilities aimed at helping you sleep better .
have trouble sleeping or find it hard to wake up, then I leave some interesting apps for iOS and Android. The purpose of these tools is so gentle wake during light sleep and gather information of our movements in bed.
Applications mentioned in this paper share many of its features but come with elements that differ from each other. Consider that there are proposals to use these mobile devices to place in bed with us.
Sleep as Android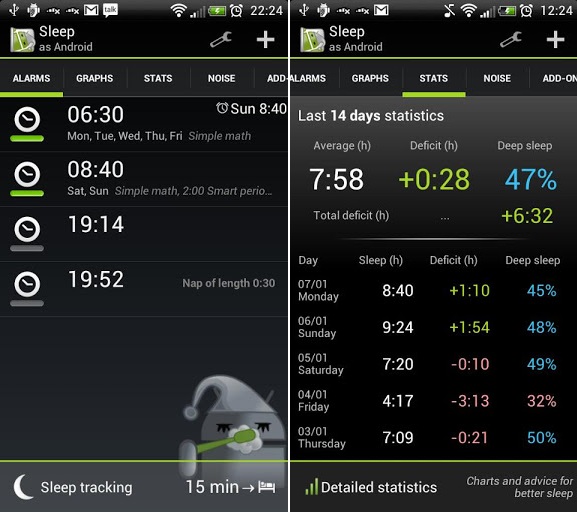 The first utility is available only on Android and has several valuable tools. The application integrates a clock that is activated during light sleep and lets you select different shades, from natural sounds to songs stored on the smartphone or tablet.
forte Sleep as Android is that it generates a complete history Graphic with data collected during sleep cycles, as the statistics of any deficiencies. It can also record ambient sound to check our snoring or sleep talking about.
Another aspect to note is that the resolution requires CAPTCHAS to determine whether we are awake. Thus we turn prevents the alarm and continue sleeping. The app can be used free of charge for two weeks but then requires the purchase of a license.
Download | Sleep as Android.
More info | Official site.
Sleep Cycle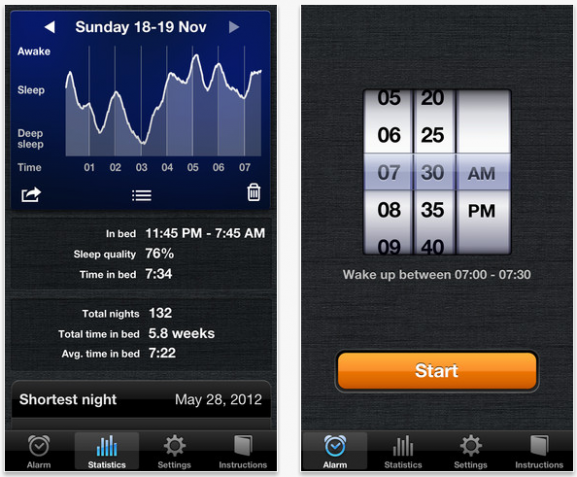 This app is very similar to the previous one but it works only on iOS. It also includes an alarm that wakes us in gentle light sleeper, displays data collected with different graphics and offers pleasant melodies and alarm. As aspect to highlight, Sleep Cycle offers the possibility to create notes about specific events that may adversely affect the quality of sleep (overeating, for example).
The application also allows exporting the information collected for display in Excel and use the phone's vibrator in the event that the sound is not enough to wake us up. Sleep Cycle costs $ 0.99 and works on any iPhone, iPad or iPod Touch with iOS 4.3 or higher.
Download | Sleep Cycle.
More info | Official site.
SleepBot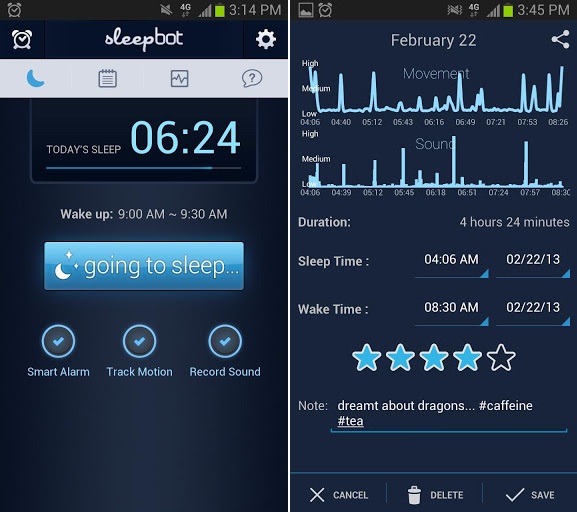 Like the two previous proposals, the fort of SleepBot is using intelligent alarm, recording information and automatic recording of possible noise / snoring. Also this application for Android has a widget which aims to enable or disable the application from the main screen of the smartphone or tablet.
Another interesting aspect is the section with tips and recommendations to help you sleep or stay awake. Where it differs from its competitors is the inclusion a web client to analyze the data collected by the app from the web browser on our computer.
Unlike
Sleep as Android, this app is completely free and does not require the purchase of licenses or unlocking internal features.
Download | Sleepbot.
More info | Official site.
Images taken from Google Play and App Store .
info via

Lifehacker.