Ubuntu 13.04 this morning is available for download and includes a few improvements compared to 12.10, the predecessor version. If you want to upgrade your computer to the latest edition of Canonical's distro, then show them how.
Before proceeding further we should clarify a few things. First of all, the upgrade to a new version of Ubuntu can be done in different ways, from Terminal or through the update manager. This article show the second method because it is simpler and easier to understand for those who are just taking their first steps in the distribution.
Please note before updating all PPA added to the system will be deactivated during the process. Make a backup of your files to avoid losing them in case something goes wrong. Checked for your Internet connection is working properly and finally, in the case of using a laptop, conéctenla to the outlet.
The first step is to open the software update manager:

new window will list all updates diponibles both programs installed as system characteristics. Also displays a warning if it detects that a new version of Ubuntu has been released: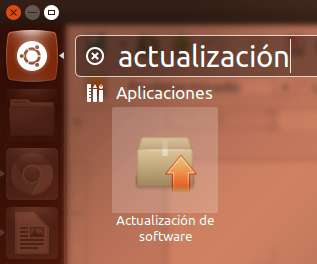 If you want to install Ubuntu 13.04 simply click the "Update" and follow the on-screen steps.
A wizard will guide you in the first part of the process and then have to wait for it to finish. Arm yourself with patience because the process takes a little demand for other users.
If the Ubuntu update manager does not show them the announcement that a new version is available, do not worry. To solve this problem usually only enough to change the options on the origins of the software. Pulsen button "Settings" in the manager or write "Software Sources" in the Dash .

the "Updates" see the "Notify a new version of Ubuntu" and there will need to select "For any new version" .
Once the upgrade process will be a few new features in Ubuntu 13.04. The overall performance of the distribution was improved and the new version of Unity is faster than 12.10. It also introduced new icons, improved synchronization menu and dialogs renewed at shutdown or log off.
also noticed the disappearance of Gwibber social networking client as default and the introduction of a new "social lens" in Unity, which lets you interact with Facebook and Twitter from your desktop. But not all good news since, from Ubuntu 13.04, official versions support "non-LTS" is only nine months .
and laid their hands on Ringtail Raring invite you to give your opinion in the comments area. If you have not tried Ubuntu, you can download from the official website.