Four months passed since the submission of Optimus G, the high-end smartphone from LG. But the technological race to have the best product forced the South Korean company to launch a new and better product that meets the latest market trends.
id="more-31418″>
What are the new trends? At the Consumer Electronic Show in Las Vegas it was observed that the new devices are increasingly powerful but also larger, as demonstrated by Sony, Lenovo or Huawei.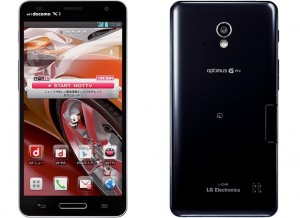 For that reason
LG has decided to increase the size of your device 0.3 inches: the Optimus Pro will have 5 ¨ G instead of the 4.7 that has its predecessor.
Besides this novelty, which is purely visual, the new device from the South Korean brand has a Full HD 1080p resolution and pixels per inch density increased from 312 to 440 compared to its predecessor.
Among the new qualities of Optimus Pro G stands Snapdragon S4 Pro processor quad core 1.7 Ghz, besides having 2 GB of RAM and 32 GB of internal storage expandable via microSDX card. Furthermore, at its rear has a 13 megapixel camera. The device will come equipped with Android 4.1 and will have Jelly Bean fourth generation LTE connectivity.
G
Optimus Pro has a more powerful battery than its predecessor: 3,000 mAh. This gives more autonomy but also generates charging device 1.5 millimeters wider: 10 mm thick.
For now the smartphone can be achieved from April in Japan and no details of the date on which it will begin marketing in other countries. Meanwhile, Latin America is still waiting for March to buy the LG Optimus G, but soon comes the new and improved version Is it worth purchasing the first generation of the device?
Source: RedUSERS