On Tuesday January 15 premiered Wikivoyage Wikipedia, one of the biggest travel guides worldwide.
id="more-31358″>
guidebook when it is in nine languages ​​and has more than 50,000 items, of which 1,099 were in Spanish.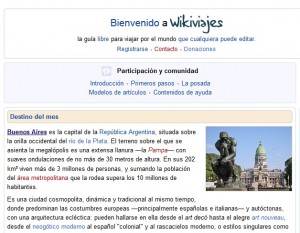 project began following a boost proposed by many of the administrators and the Wikitravel community, an online travel guide that was created in 2006 in Germany and in mid-2012 began to generate dissatisfaction by Frequent users of the site and its contents restated workers permanently.
Wikitravel
was in several languages: English, Dutch, French, Italian, Russian, Swedish and others.
But it was in mid 2012 that most of the English Wikitravel community and site administrators group began a new non-commercial project. As next act this group of people presented their idea to the Wikimedia Foundation in order to capture their interest in this new work.
Wikimedia
people are interested in this project and approved in October 2012, then installed the site on the servers of the company in December of that year to finish being officially released on Tuesday Jan. 15, 2013.
On this project the Wikimedia Foundation director Sue Gardner, said: "There is a huge demand for traveler information, but very few sources are exhaustive and non-commercial", adding: "That's what we want to change ".
Successful Wikivoyage
or Wikiviajes in Spanish, simply and solely depends on the willingness of travelers. These are responsible for making your account active and work with the community, ala Wikipedia. Beyond that, the site director announced there will be 200 payments publishers to offer the best possible service to users of this site.